| | |
| --- | --- |
| Posted by elukasiewicz on January 23, 2015 at 10:15 AM | |
Hi everyone!  I'm excited to share with you this beautiful gift I made for a Christmas present this year!  I really enjoy repurposing things!  I was out thift shopping with the recipient of this gift in her town for the afternoon,  we came across a dark and dreary storefront and went in.  I spotted this beautifully shaped broken jewerly box and picked it up, checking to make sure the music box in it still worked.  I was pleased to find the mirrored case and music box still perfect! I bought it and was excited to surprise my friend
  (I told her it was for my daughter,  sneaky I know lol)
It was very 70's and completely hideous when I started!  My mom was surprised I would waste my time on something so ugly,  but if she only could see what I saw looking at it.....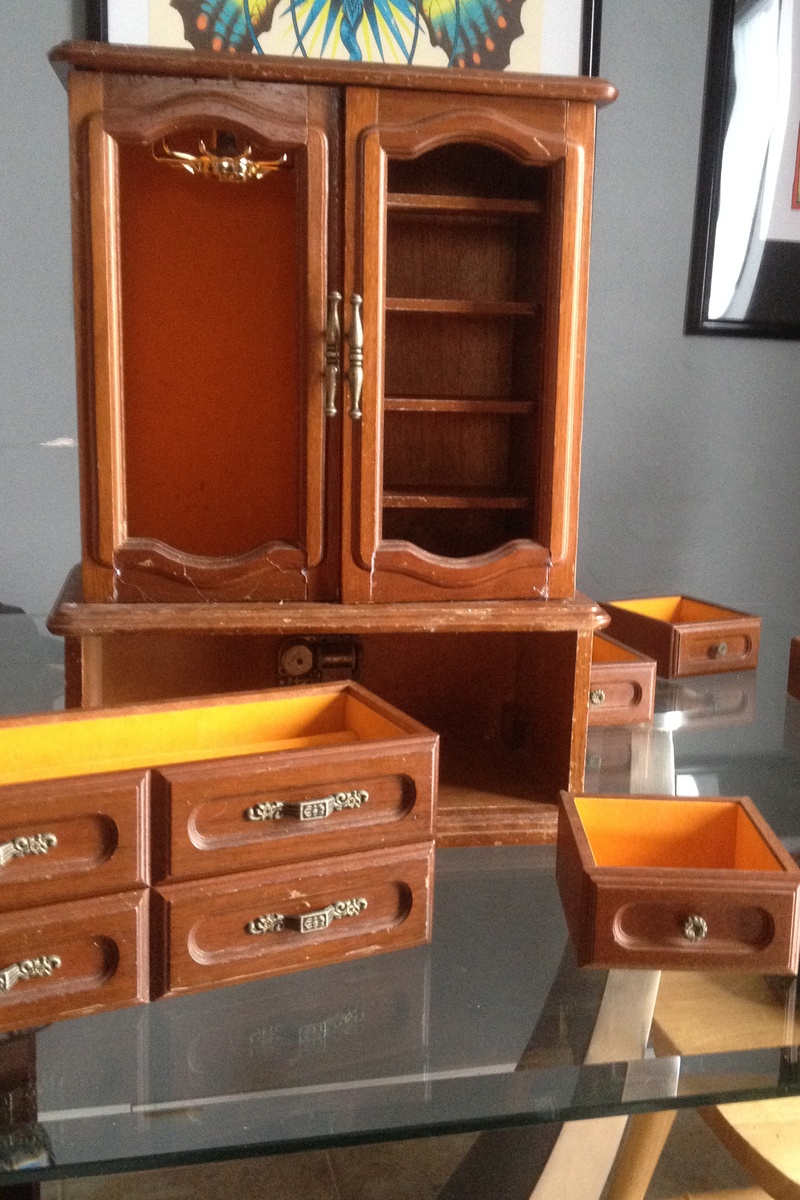 After roughing the wood up with some sand paper, I proceeded to spend many hours painting the box white,  it took about 6 coats of paint to hide this ugly stained wood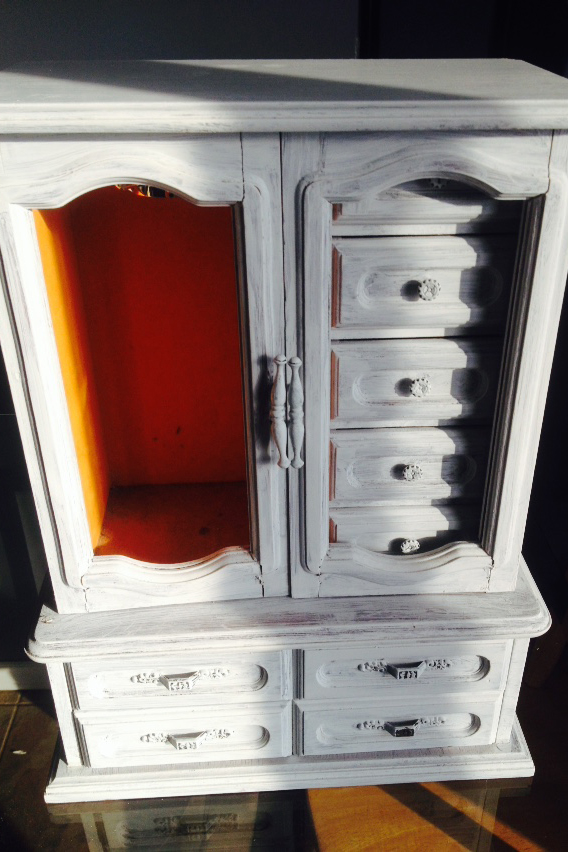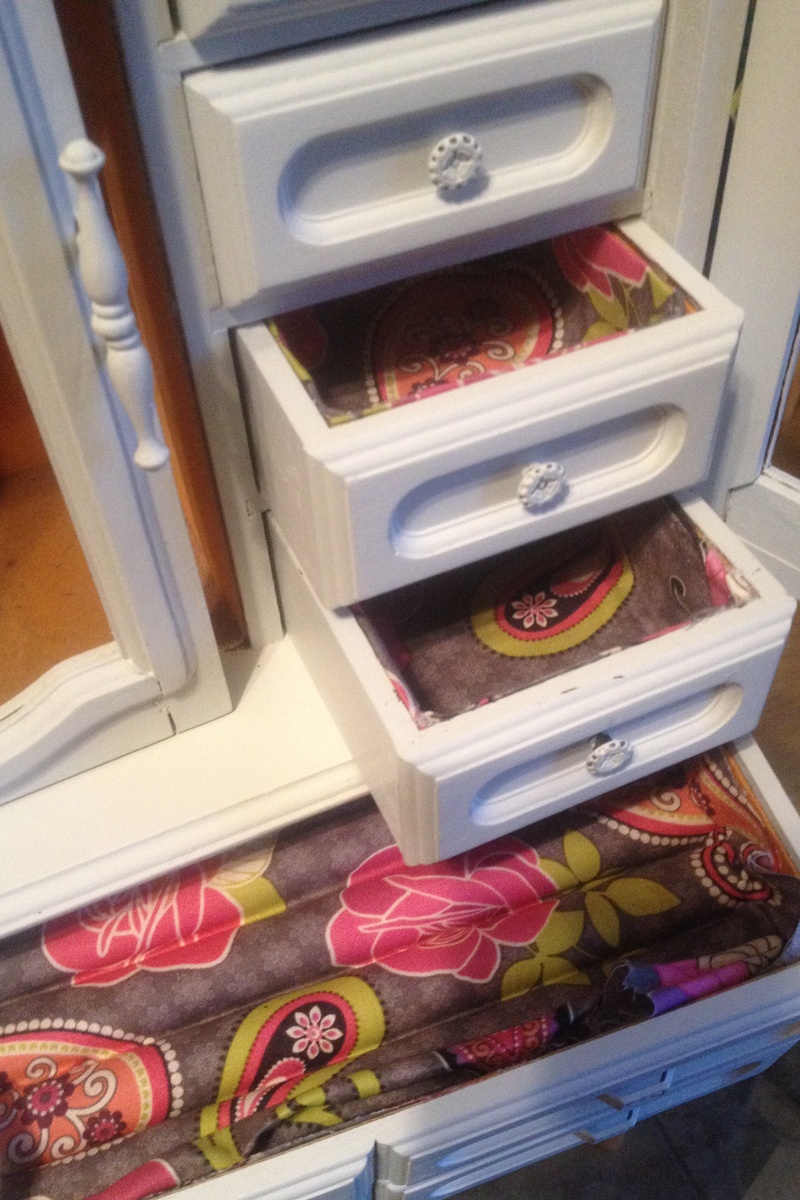 Now came the fun part!  Making the drawers pretty!  I achieved this by hot gluing a beautiful and fun patterned fabric into the insides of the box. This is fairly trickly to do without burning all your fingertips lol.  I just cut the pieces for the sides of the drawers first and molded them into the rectangles that fit,  after that I glued them to the yellow 70's velvet, and added in a bottom piece.  For the ring tray I glued the fabric to the top of one drawer edge and stuffed the fabric into the existing slats, then glued all the surrounding edges in place,  this step the fabric may not be perfect but that is part of the charm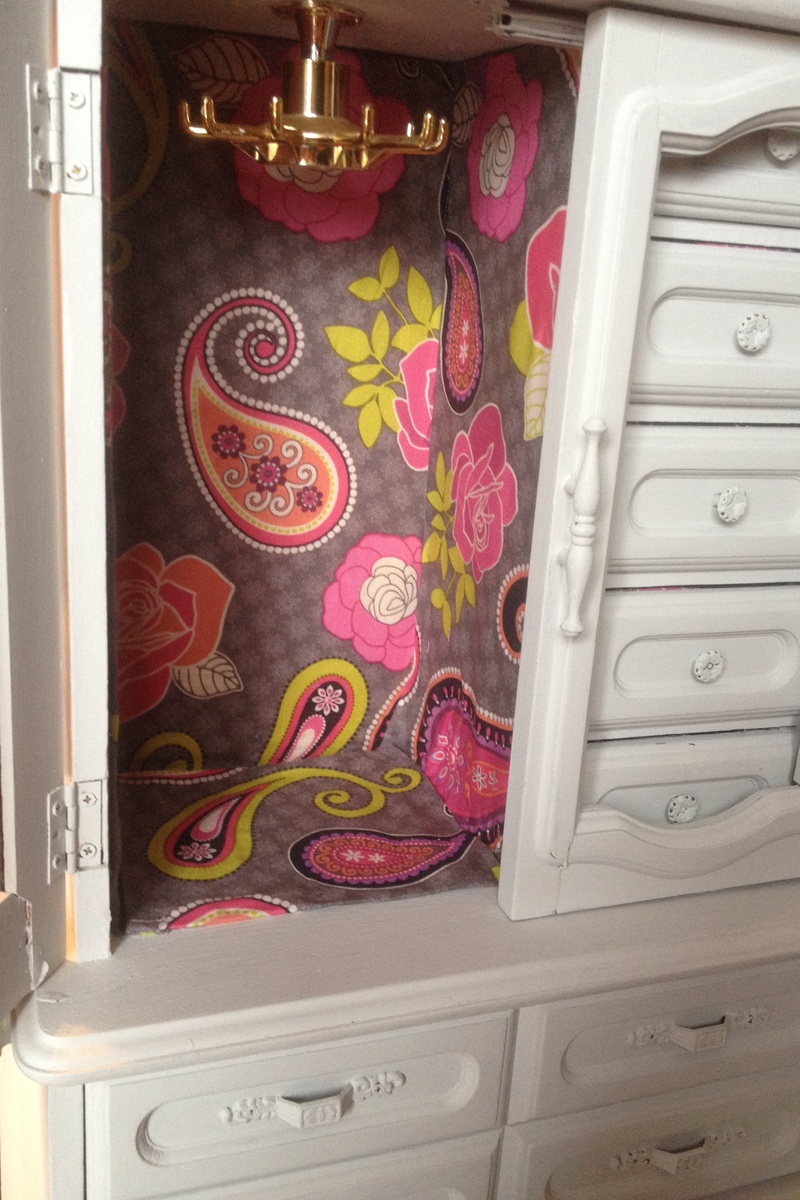 After finishing up the drawers I tackled the necklace area,  I removed the holder wheel from the top and proceeded to glue in the fabric with the same steps as the drawers.  Then replaced the necklace holder.  I was almost finished at this point.
I thought the box looked too plain so I added some pink paint to match the fabric around the carvings in the drawers and added in little flowers on the drawer pulls.  After the pink paint dried I took some fine grade sandpaper and roughed up the pink paint and the edges of all the drawers and sides of the box to give it that shabby look.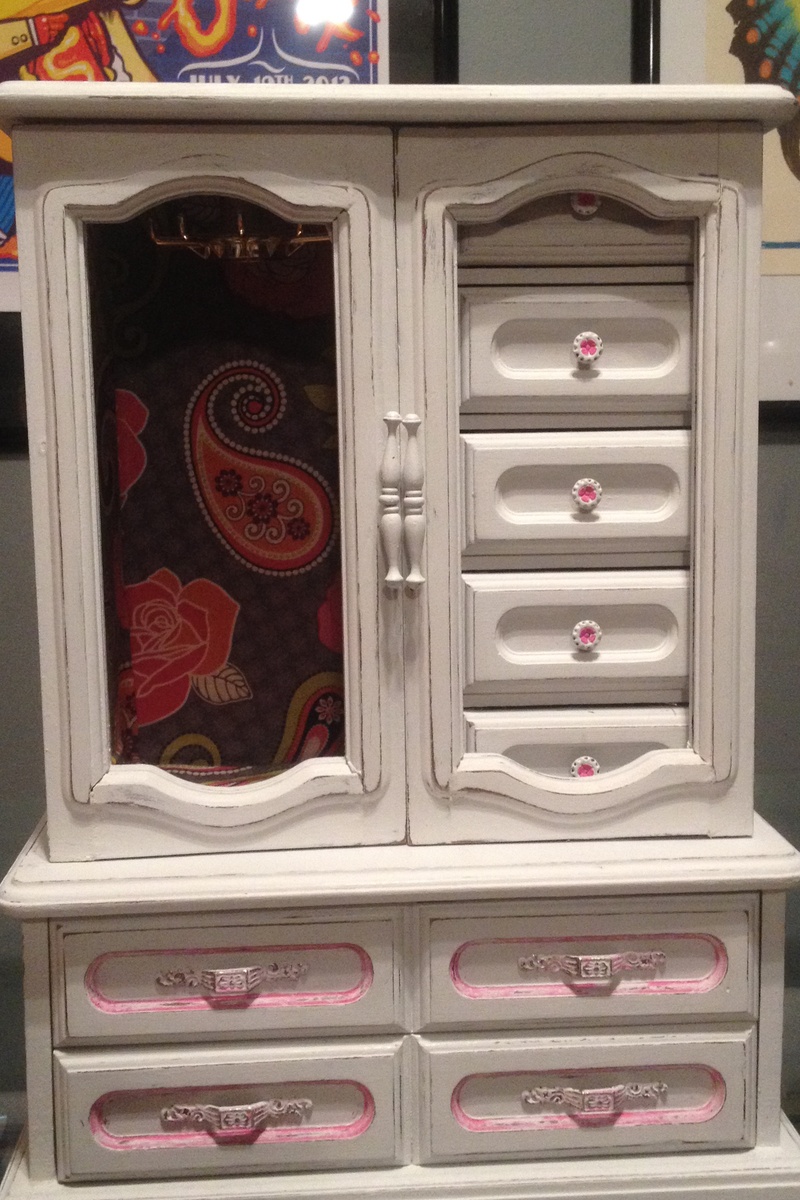 I think it turned out great!  I really wanted to keep it for myself lol.  But I thought it would be a nice reminder of that day we spent together for her
  If this is something that you love but feel you can't do yourself,  shoot me a message and we can work out a deal that I will create something like this for you! (local customers only, all of the boxes I make are different and one of a kind,  it depends of what kind of deal I can find)   Hope you found this helpful,  happy crafting!